In response to the COVID-19 pandemic, the current UK government guidance is to work from home if possible. In circumstances where this is not possible, care must be taken to 'reduce risk to the lowest reasonably practicable level by taking preventative measures', to safeguard the health of all staff and to minimise the possibility of the virus spreading in the workplace and beyond.
For employers who have faced unprecedented disruption to their businesses over the past few months, the process of changing office lay-outs and work processes to enable their staff to return safely to the office may seem like an overwhelming task. However, there is a wealth of practical help and advice on the government website at www.gov.uk/guidance/working-safely-during-coronavirus-covid-19. In addition, the Occupational Health experts at YourGP have listed some useful tips below:
10 ways to safeguard your office staff during the COVID-19 pandemic
Carry out a risk assessment for your business and share the results with all staff.
Instruct all staff to stay at home and self-isolate if they display any symptoms of COVID-19.
Encourage frequent handwashing and surface cleaning.
Make every reasonable effort to comply with the social distancing guidelines (staying 2m apart at all times, or 1m with risk mitigation, where 2m is not viable).
Use floor markings or introduce a one-way system to aid social distancing.
Ensure the office is well ventilated by keeping doors and windows open, if possible.
Use screens or barriers to separate staff from each other.
Opt for a back-to-back or side-to-side desk lay-out (rather than face-to-face) whenever possible.
Reduce the number of people each staff member has contact with by forming teams.
Stagger arrival and departure times to reduce crowding at entry and exit points.
Once you have taken all the appropriate measures, you should display a notification, such as the one below, in a prominent place in your office and on your website.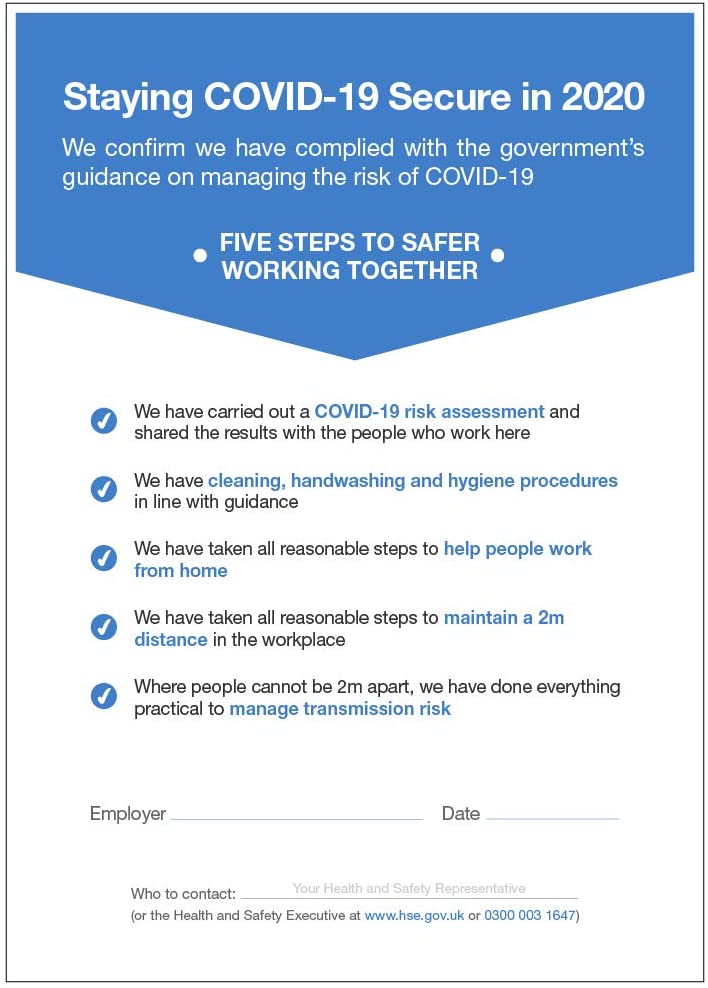 For further information about working safely during the COVID-19 pandemic, speak to YourGP's Occupational Healthcare professionals by calling 0131 225 5656 or emailing occhealth@your.gp.